William Wallace - 1270~1305
Dunottar Castle & Aberdeen 1297
'The Prospect of Dunnotter Castle'
Dramatically perched on cliffs above the North Sea,
Dunnottar Castle
near
Stonehaven
had been a fortified stronghold from at least the 7th century. In Slezer's time it was used to imprison Covenanters.
It was also where the
Scottish crown jewels
were taken for safety during
Oliver Cromwell
's invasion in
1650
.
Slezer surveyed fortifications in Scotland in his capacity as the military's Chief Engineer. This prospect was based on some of the first drawings he made in that role.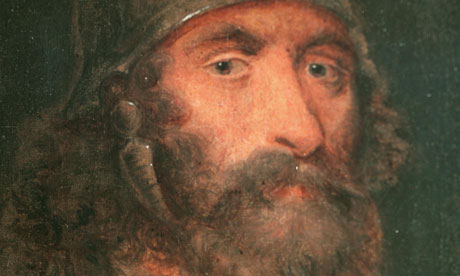 William Wallace

led his rebel army through
Mearns
to

Dunnottar Castle

. At the head of the rebel column there were the standard-bearers who proudly displaying the banner of St. Andrew, and as the rebels marched passed settlements they managed rekindled a sense of patriotism among the locals. Dunnottar Castle, an enormous fortification, defended on three sides by cliffs, as it stands on a promontory. Some 4000 Englishmen and their supporters had sought refuge within the castle, as they fled from the surrounding areas, when they heard the news of
William Wallace's
approach. The

Bishop of Dunkeld

pleaded with William Wallace to spare the lives of the people that had sought sanctuary within the walls of Dunnottar Castle and to also let them leave in peace. But with '
the Barns of Ayr
' and other atrocities that the English had inflicted on the Scots still fresh in William Wallace's mind, he had no hesitation in stating that
no quarter
would be given. The Castle's defences crumbled as it suffered the full onslaught of the rebels' attack. As the rebels stormed through the castle's gates, many of its inhabitants ran and sought refuge within its church, instead of pursuing them into the church, the rebels just set the church alight, roasting its occupants alive. A courageous few confronted the advancing rebels head on, but were swiftly slain, while some couldn't even bear to face the rebels and committed suicide by jumping off a cliff. Amazingly after the massacring the
English
at
Dunnottar Castle
some of the rebels knelt before the
Bishop of Dunkeld
and asked for absolution. In response to his men's actions
William Wallace
replied sarcastically: 'I forgive you all. Are ye men of war, and repent for so small a matter? They rued not how they did to us in the town of

Ayr

where they hanged our true barons.'
Immediately after the assault on
Dunnottar Castle
, William Wallace and his rebel army quickly marched up the east coast to

Aberdeen

(it was a strategically important supply route for

King Edward I

's northern garrisons and an administrative centre for the region).
There
William Wallace found an armada of 100 English ships, heavily laden with provisions and soldiers, still anchored within its harbour. It was obvious to William Wallace that the English were hastily leaving, and the speed of his arrival from
Dunnottar Castle
had caught the English unawares.
William Wallace waited until it was low tide, then the rebels charged at the stranded ships in the harbour, they slaughtered its crew and soldiers, liberated its cargo, and then finally they burned the ships. Amid the confusion of the rebel's attack, the English Sheriff of Aberdeen, Sir Henry de Lazom took the opportunity and seized control of Aberdeen Castle in the name of King John Balliol.
King John Balliol's reign over Scotland was a stormy affair, as it was rocked from one crisis to another. Largely due to King Edward I's constant meddling in Scotland's affairs as the self-appointed Lord Paramount, and this had the effect of undermining King John Balliol's authority. Before long the nickname of 'Toom Tabard' - 'empty coat' was coined for King John Balliol, as it mocked him for being spineless and nothing more than a mere puppet of the English monarch.
Then William Wallace and his rebel army headed north to Crimond in Buchan and then westwards to rendezvous with Andrew de Moray on the Spey. By 1 August 1297, William Wallace was back at Aberdeen to oversee the set up of the region's administration, but shortly afterwards he was called away to supervise the siege at Dundee. Also in 1 August 1297, the Governor of Scotland, John de Warenne was at Berwick, and from there he sent a dispatch to King Edward I, in which it stated that Sir Henry de Lazom had seized Aberdeen Castle. Then it goes on to say that he had not heard of Lazom's fate, but pledged that 'if caught, he shall be honoured according to his deserts'. As a result of John de Warenne report, Sir Henry de Lazom had his estate in Lancashire seized and was subsequently branded 'a rebel adherent of the Scots'. By August 1297, the lands north of the rivers Clyde and Forth were largely in the control of the rebels. With the notable exceptions of Dundee and Stirling Castle, as they were still staunchly
defended by their English garrisons, unlike Aberdeen and Perth.
William Wallace was captured by the English, and was hung, drawn and quartered at Smithfield in London in 1305. His fate - the body of the said William be cut up and divided into four parts, and that the head, so cut off, be set up on London Bridge, in the sight of such as pass by, whether by land or by water; and that one quarter be hung on a gibbet at Newcastle-upon-Tyne, another quarter at Berwick, a third quarter at Stirling, and the fourth at St Johnston (Perth), as a warning and a deterrent to all that pass by and behold them.
Latin Inscription - "Freedom is the ideal; never live like a slave."
...a tall man with the body of a giant, cheerful in appearance with agreeable features, broad-shouldered and big-boned... pleasing in appearance but with a wild look, broad in the hips, with strong arms and legs, a most spirited fighting-man, with all his limbs very strong and firm
"I can not be a traitor, for I owe him no allegiance. He is not my Sovereign; he never received my homage; and whilst life is in this persecuted body, he shall never receive it."
I never proposed to myself, that, as the end of my travel and labour, which neither my circumstances or my fortune can admit; nor doth my mind desire: but when I see my fellow subjects destitute of leaders by your cowardice, and disposed to a most cruel enemy, not for slavery, but for butchery and destruction; I took pity upon their case, and have undertaken their cause, forsaken by you; and I will as soon leave my Life, as forsake their liberties, fortunes and safety. You, to whom nasty slavery with security, is preferable to honest liberty with hazard, embrace that fortune, which you so greatly esteem : I shall freely and willingly die, tho' I had a thousand lives, in the defence of my Country, nor shall the love to my Country leave me, before my life forsake me.
The story of Wallace poured a Scottish prejudice into my veins which will boil along till the floodgates of time shut in eternal rest. - Burns